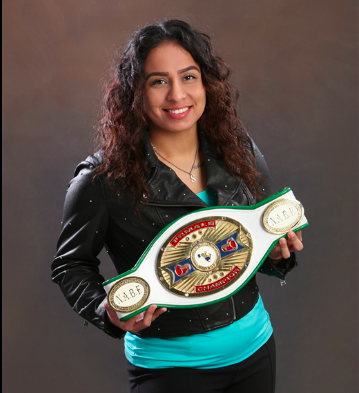 Selina "The Aztec Queen" Barrios
Nickname – Aztec Queen
Height – 5'5
Weight – 135 (Lightweight)
Date of Birth – Jan 29, 1993 (Age 25)
Birthplace: – Racine, WI
Hometown – San Antonio, TX
Amateur Record – (75-4)
Pro Record – (5-0, 3 KO's)
Current Titles: NABF
Selina Barrios is a 25-year-old undefeated Mexican-American professional boxer who was born in Racine, Wisconsin. Barrios' parents, Isabel (mother) and Martin (father) would later move to San Antonio, Texas, along with her younger brother Mario, and two younger sisters, Vanessa and Valencia, to be closer to their grandmother.

Her brother, Mario Barrios (22-0, 14 KOs) is currently the number one ranked WBA super lightweight in the world behind the only the WBA world champion, Kiryl Relikh.

Selina started boxing at the age of nine and took her first amateur bout at 10-years-old. Her mom was a big boxing fan but was unable to train since she had to work to make ends meet, so she took Selina and Mario to the gym to train. They both were first trained by Coach Jaramillo, but as they got older their dad Martin took over, and started training them as adults, taking them to the next level. Marin is considered one of the best trainers in San Antonio.

Selina Barrios made waves in the amateur winning every amateur tournament she entered. In fact, Barrios finished her amateur career with an impressive record of 75-4 and defeated 2016 U.S. Olympian and Top Rank signed fighter Mikaela Mayer. In addition, she lost highly controversial decision to 2012 U.S. Olympian Queen Underwood.

During her amateur career, Barrios saw the politics of boxing work against her as fighters who had been a part of Team USA boxing, like Mayer and Underwood got byes in certain rounds were as she was fighting each and every day against the hardest opposition. This experience created a chip on Barrios' shoulder, one she fights with, to this day.

After getting robbed in all her defeats, Selina, at age 18, decided to leave boxing. She was out of boxing for five years. During her layoff, she had a daughter whom she named Athena Catalaya. Selina was encouraged by her brother Mario, who had turned pro, to get back in the ring as a professional. Selina took his advice and made her pro debut on January of 2017.

At age 23, Selina Barrios fought as a professional in her hometown of San Antonio, Texas, against Tammy Franks, veteran of thirty pro fights. The result was a sensational first-round knockout.

Her second bout took place on September 9, 2017, at the San Antonio Events Center in San Antonio, Texas, another hometown fight. Barrios would win a wide decision against Jasmine Clarkson, setting the stage for a great start to her career.

On December 29, 2017, Barrios fought her toughest fight as a pro against undefeated "Lovely" Lisa Porter in Alexandria, Louisiana. The bout was a good test for Barrios being that her first two fights were four-round bouts, this fight was ten-rounder. Barrios picked up a majority decision win, winning with the scores of 97-93, 96-94 and 95-95. The win also won Barrios the NABF lightweight title, her first title of her professional career in only her third pro fight.

Barrios would return on July 2018 to fight her second undefeated foe, Uzbekistani Aida Satybaldinova, who was nicknamed "Lady GGG", an homage to her fellow countryman, the ferocious power puncher Gennady Golovkin. The bout took place at the American Bank Center in Corpus Christi, Texas and here NABF title was on the line. The result was considered by many boxing aficionados as a "knockout of the year" candidate. Barrios landed a devastating one-punch KO in the fourth-round of a scheduled eight-round title fight. Satybaldinova legs turned to wet noodles before she hit the mat face first. The video went viral and helped Barrios earn more acclaim in just her fourth fight.

On September 22, 2018 Barrios defended her NABF lightweight title once again, this time against Patricia Juarez, the sister of future hall of famer Mariana Juarez. Barrios dominate winning by a ten-round decision. Barrios took over the fight and commanded the action in every round. The judges saw the bout 100-90, 99-91 and 99-91.

Selina Barrios is advised by Kerry Daigle and is currently one of the most fearsome lightweights in the world and is looking to fight Mikaela Mayer, Katie Taylor and Amanda Serrano in the near future. She is co-managed by Charles and Colin Campbell.

On her spare time, Selina enjoys spending time with her daughter and family. She has a close bond with her brother Mario and often trains side by side with him.